Friesovy boudy
Matouš

Sunsets


Ski shop


WIFI Free


Skialp


Tourism


Sauna


Sports


PET Friendly
Fries' huts are located at an altitude of 1200 m above sea level in the central part of the Krkonoše Mountains between the resorts of Špindlerův Mlýn and Pec pod Snězkou. The mountain huts are located outside the main tourist centers, so they provide a quiet environment for active rest and relaxation, or perfect conditions for sports training.
You will find quiet accommodation in the mountains in a cozy environment of wooden cottages.
We offer a stay at the Matouš lodge, which provides accommodation in tourist class with a capacity of 15 - 23 people. In the area of ​​the resort there is an 800 m long ski lift with an elevation of 127 m and the difficulty of which is blue. At the same time, the Krkonoše ski highway passes around the Matouš lodge.
History of Friesovy boudy
The first mention of Fries' huts is in the Vrchlab urbár, where Jiří Fries is remembered in 1676, who was allowed to build a lodge here. Until 1882, the Fries sheds belonged to the cadastre of the village of Dolní Dvůr and then to the village of Strážné, where in 1900 7 Fries families are registered. Budars were engaged in cattle breeding, production of dairy products and haymaking.
With the development of tourism in the second quarter of the 19th century. along the main tourist routes, along the main tourist routes, in addition to farming, they also engaged in new forms of livelihood as mountain porters and guides and adapted their dwellings to provide hospitality to tourists. Milk, cheese, coffee and spirits were sold here.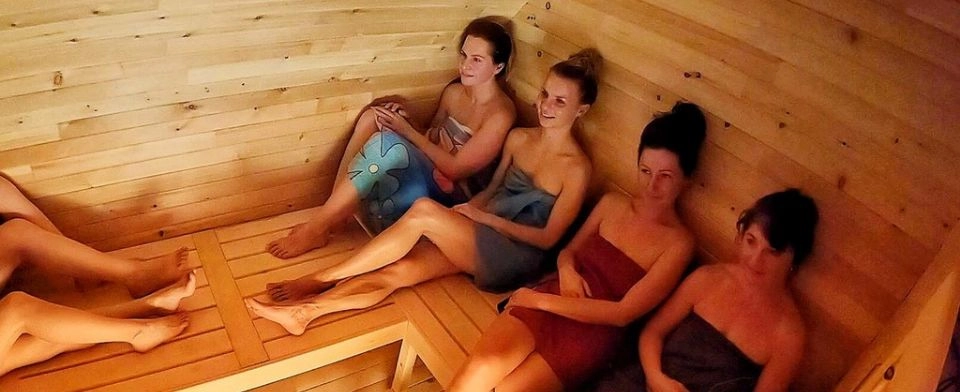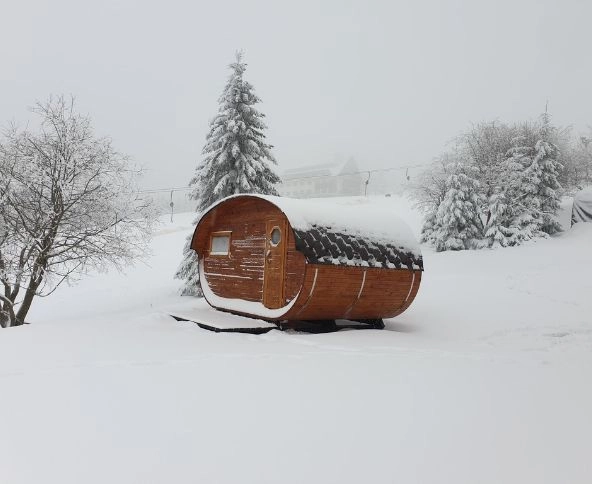 Sauna right next to the lodge
We offer saunas in an oval sauna made of Siberian cedar with a view of the region.
An ideal place to relax after a hard trip or work.
Maximum capacity is 6 people.
Reservations are also possible for non-accommodating guests.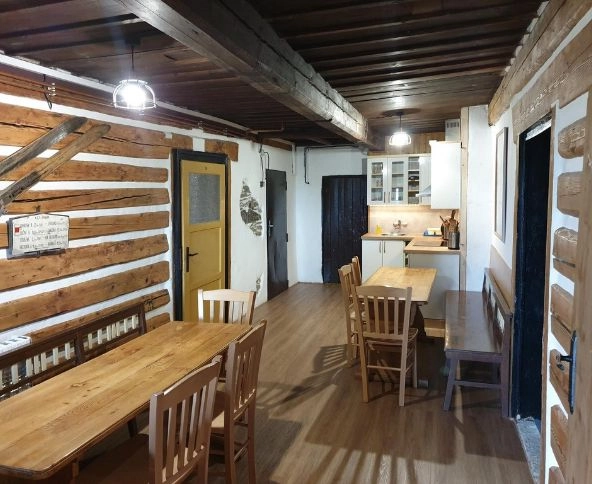 Accommodation
We offer accommodation in a mountain lodge with purposefully furnished rooms and shared facilities.
Bouda Matouš is ideal for smaller groups or families with children. With a capacity of 15 beds, offers a quiet and picturesque surroundings of the mountain timber lodge with own cooking or ordering food at the hotel Friesovy Boudy and cottage Andula.