History
History of
Friesovy boudy
The first mention of Fries huts is in the Vrchlabí codex, where the is in 1676 commemorated George Fries, who here was allowed to build the hut. Friesovy hut belonged to 1882 in the village of Dolní Dvůr and then to the village Strážné, where in 1900 registered 7 families Fries. Owner of hut devoted to livestock breeding, production of milk products and senaření.
With the development of tourism in the 2nd quarter of the 19th century. Owner of hut along the main tourist routes in addition to dedicated management and new forms of livelihood as carriers and mountain guides and they adapt their homes to provide hospitality to tourists. There is sold milk, cheese, coffee and spirits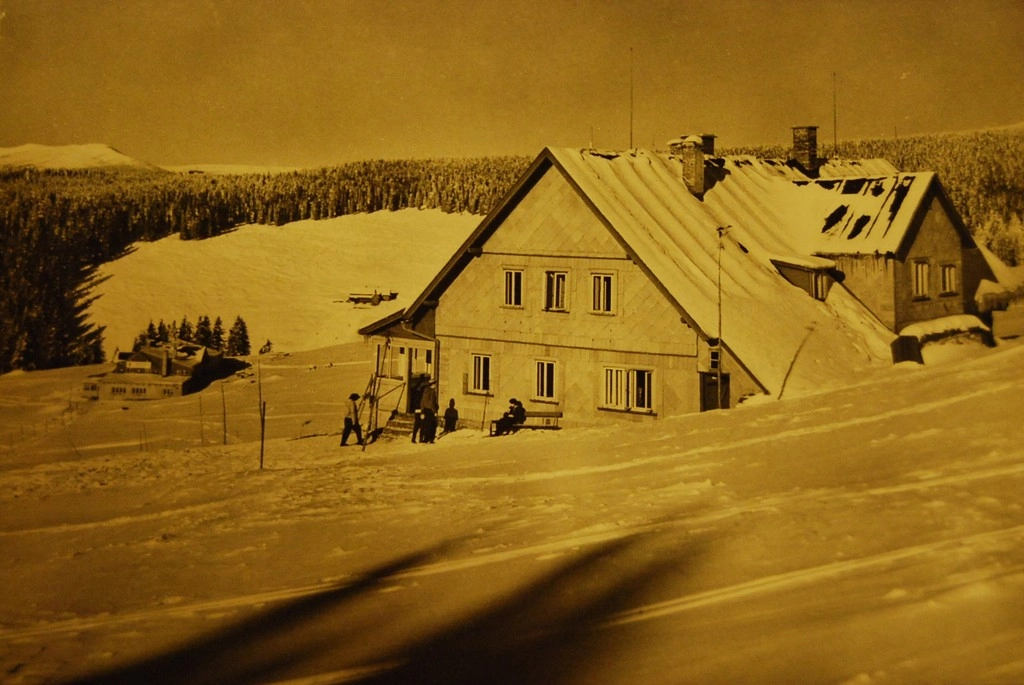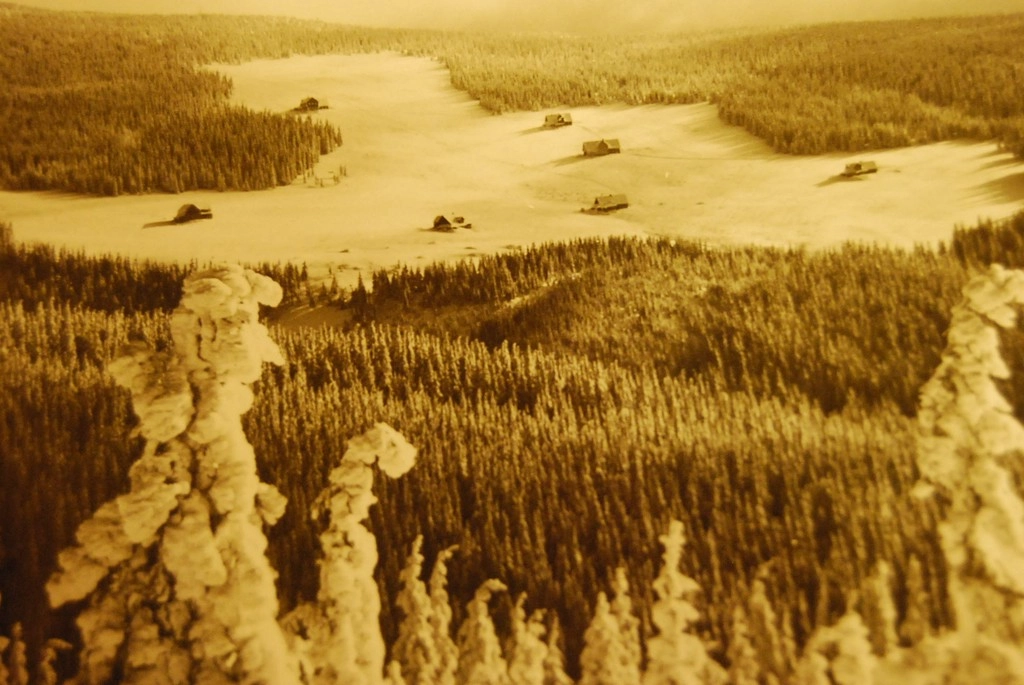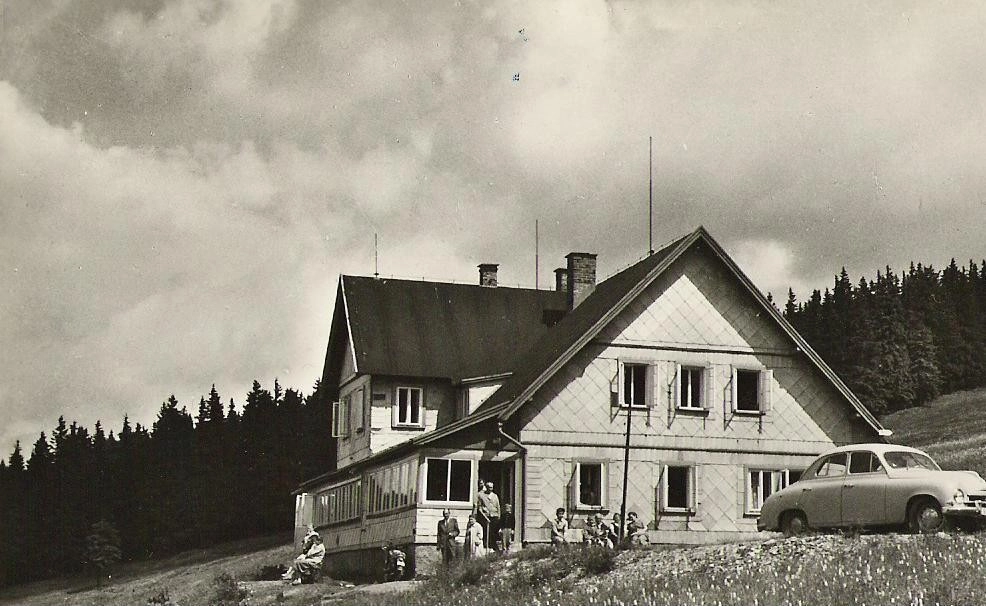 Friesovy sheds lay aside
long hiking trails
He avoided one of the oldest roads - Silesian Way (Lahrbusch), which led through Jilemnice, Vrchlabí, guard and Lahrovy shed on Výrovka, hence the saddle between the Studniční Mountain and Luční Mountain around Luční hut and Hampl's hat. It was also said to have been the usual smuggling routes. Only after completion of the lift on the planet and Friesovy hut became frequented tourist center.
Highlanders life was not in the first half of the 20th century. far from easy. In the mountains it was not yet electrified, shining therefore mainly kerosene and candles. This sometimes led to fires, but the most frequent cause was a lightning strike or a faulty chimney. Mostly baked bread yourself at home in each building, usually 1 every 14 days. Vegetables or fruit at these altitudes failed, maximum cherries grown goose with apples and bud up from the Sentinel below. Vegetable ate the most carrots and radishes, which they bought in Vrchlabí. Likewise cabbage, which loaded and served them throughout the year as a source of vitamins.
Pigs did not behave, because they do not feed. Tools let you buy and repair of Vrchlabi, in the mountains was no blacksmith. Postman went regularly with the mail every day and wore the newspapers. The information was also used to be a radio with batteries, which were at school Rennerovkách and in numerous pubs (pubs should Friesovky, Lahrovky, Klínovky, court cottage and guard).
Medical care was not available to people too and was very expensive. Practitioner and dentist were to Vrchlabi when in a serious case for the doctor arrived, it was usually too late. Early thirties is very widespread in tourist traffic and has become for most mountain people a good side income. They traveled here as tourists from the Czech Republic and from Germany. Tourism was the most common reason for contact with the Czech people, because here the Czechs until the end of the war practically lived only in Vrchlabí, where they were a Czech school.
House No. 95
Hotel Friesovy sheds
The original owner of the mountain economy was August Thomas Fries, then his brother Josef. Since he acquired the house of Vinzenz Lahr Klínovek No.84, who farmhouse after a fire around 1910 rebuilt. Joseph Buchbergrovi sold the house and moved. In 1921 he moved even Buchberger, from Lahrovek no.82 up to the Darre at Tannwald - Polaum. (Today's village and dam Sous in Jizera Mountains). The house he bought from Josef Hoffman, rebuilt it and bought more land adjacent house č.p.96. Thus, the economy consisted of five hectares of meadows, five cows, heifers and draft horse. In 1935, Josef Hoffman won the license to operate hospitality. The inn has become a favorite place for both residents and guests (there were five to six guest rooms). The cozy pub is often met young and old to sit in the beer and wine, or hard alcohol (most often it was schnapps). When popular dance parties Rennerova band played. On June 19, 1945 was a couple with two daughters and grandsons displaced.
In late autumn 1945 was allocated to the Czech entrepreneurs building as a tavern and hostel. After 1948 the building was expropriated and became the property of the Skoda factory in Prague. In 1987 the building was completely demolished and newly built as "Fries hut" closer to the forest. Hans Adolf knew even from his father, at the time, "Hof-Winz-Seff 'family also lived there Wenzel Lahr. This, in its time, the most successful cross-country skier died in the First World War. After 1920, his widow Anna Lahrová moved with her two sons to Harrachov. The older one (Vol. 1913), Hans Lahr, later became very famous runner jumping and world record holder in ski jumping.